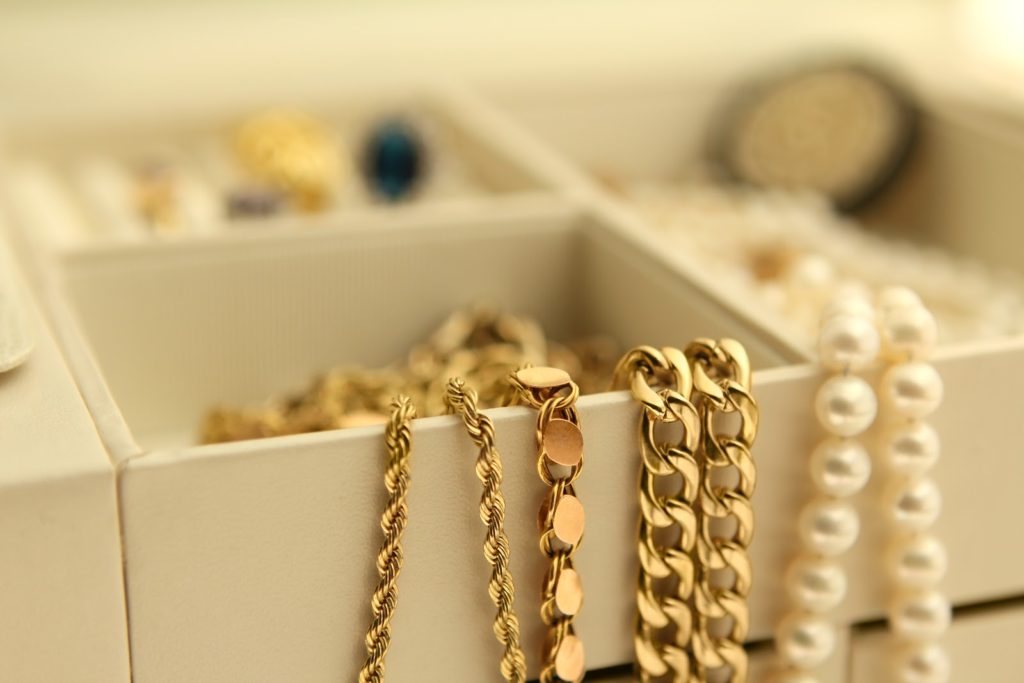 Is Selling Your Gold Jewelry the Right Choice for You? What's the First Step?
The decision to sell your gold jewelry is not always a simple one. 
While you may not wear a lot of your gold rings, bracelets, necklaces, or other pieces, chances are some of them have sentimental value that would make them difficult to part with. Wedding rings, family heirlooms, anniversary gifts—all of these can hold a special place in your heart. 
Still, it helps to remember that parting with an object doesn't have to mean parting with its emotional worth, and it may even feel liberating to let go of something you've held onto for too long.
Is it the right time for you to sell your gold jewelry?
This year has been a tough one for many people, especially financially. With the holidays approaching, this may be the perfect time to sell some of your gold jewelry and give yourself the peace of mind of having a little extra cash when you need it. 
If you're still feeling hesitant about selling your gold, it may help to go through your jewelry box or your home safe and take stock of the items you have. Separate the gold pieces you feel less attached to and put those aside to sell. It may be that once you've sold them and seen how profitable it can be, you'll be ready to part with the remainder of your unused gold jewelry and other items. 
What's the first step?
First, do a little research so you have some idea of what your gold may be worth. Based on the market and the current demand, the value of gold and other precious metals will fluctuate over time, but a quick online search can help you find the most recent spot price for gold.
You should also have a basic understanding of the karat structure used to measure gold. Since gold is so soft, it is often mixed with other metals to make it more durable. However, all "gold" jewelry must be at least ten karat (10K). This means that by weight, ten of 24 parts must be gold, while the other 14 parts can be different metals. Be sure to separate out your gold jewelry by karat before you take it to a jewelry buyer. 
Next, call Southwest Jewelry Buyers for a free, in-person evaluation.
If and when you do decide to sell your gold jewelry, it should be a comfortable and enjoyable experience. 
Instead of selling your jewelry online, which takes time and may come with added risks, or taking it to a pawn shop, where you likely won't receive the highest price for your items, it's best to work with a reputable local dealer that you can meet with in person. 
At Southwest Jewelry Buyers, our GIA-certified appraisers take the time to meet with you one-on-one and examine your unwanted gold to determine its value. Each appointment is discrete and respectful, and you will never be pressured to sell if you are not ready. 
We buy all kinds of gold, even your broken or damaged jewelry.
If some of your gold jewelry pieces are broken or damaged, they still have value. Southwest Jewelry Buyers purchases all kinds of gold in any condition, including:
✓ broken or damaged jewelry
✓ gold coins and medallions
✓ gold teeth and fillings
✓ old gold

watches

✓ scrap gold
Get top dollar for your unwanted gold and other precious metals.
Be it gold, silver, platinum, or other precious metals, we offer the best prices in the Phoenix area. In business for two decades, Southwest Jewelry Buyers is accredited by and has earned an A+ Rating From the Better Business Bureau, so you can feel comfortable knowing that honest and ethical transactions are our top priority.
Ready to make an appointment? It's fast and simple.
Southwest Jewelry Buyers is open six days a week for your convenience. Call 480.773.8004 today to make an appointment, or fill out our online form. Our location in the Scottsdale Airpark is easy to find, and we have plenty of qualified jewelry appraisers on staff to ensure that selling your gold jewelry is an enjoyable, profitable, and hassle-free experience.
Categories :
Gold