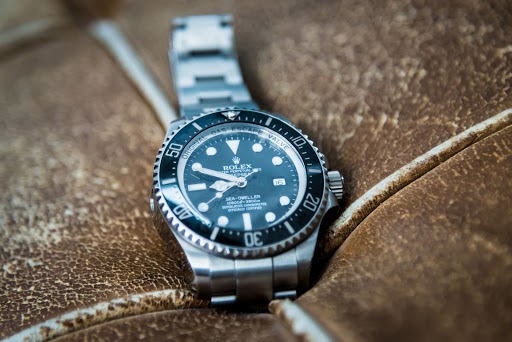 How Can I Sell My Rolex?
Make no mistake: One of the best ways to make extra cash is to Sell Your Diamonds. The precious gem is timeless and valuable, so you'll always make a profit! But why limit yourself? It's just as wise to your luxury watches—especially if you own a Rolex. Thanks to the prestige and reputation of the brand, a Rolex timepiece will surely earn you money.
Yet, if you want to top dollar for your timepiece, it's crucial to choose the right type of buyer. Here's how you can Sell Rolex Watches for the best price possible.
Visit Southwest Jewelry Buyers to Sell Rolex
We buy Rolex watches, along with other high-end brands like Omega, Cartier, and Breitling.
The process is easy: Simply schedule an appointment with our expert buyers. When you arrive at our upscale office in Scottsdale Airpark, we'll examine your piece. This will occur in a discreet environment to ensure confidentiality.
Once we appraise your watch, you can choose to move forward with the transaction. If so, we'll pay you on the spot. And if not? No worries. Feel free to think it over and return at a later date.
We also invite you to ask questions or express any concerns during your appointment. Our staff wants nothing more than for you to feel confident about your decision to sell.
Why Sell Your Rolex to Southwest Jewelry Buyers?
Instead of selling your watch online or to a consignment shop, it's best to work with a reputable buyer like Southwest Jewelry Buyers.
As a team of expert watch appraisers, we're familiar with the current market value of Rolex. This means you'll get the most accurate price for your watch—which is especially important if it has special features or is hard to find.
We've also been in the business since 2000, so it's safe to say we know a thing or two about appraising watches. Our company has also received an A+ rating with the Better Business Bureau, plus more than 100 positive Yelp Reviews.
Bottom line: When you sell your watch to Southwest Jewelry Buyers, you'll be paid fairly and honestly.
Contact Southwest Jewelry Buyers Today
If you're wondering how to sell your Rolex, come see us in Scottsdale. We're available to meet six days a week for your convenience. During your appointment, we'll appraise your piece based on its condition, features, and current market value.
We also invite you to Sell Diamond Jewelry, Precious Metals, Coins, and more.
Ready to book an appointment? Complete Our Online Form or call us at (480) 773-8004.
*Southwest Jewelry Buyers is not affiliated with Rolex S.A., Rolex USA, or any of its subsidiaries.
Categories :
Watches